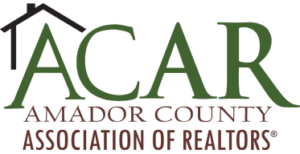 Mission Statement
"Dedicated to promotion of high standards for the real estate professional, the advancement and protection of private property rights."

Who We Are
The Amador County Association of REALTORS® in Jackson, California, is a local association of the National Association of REALTORS® (the world's largest professional association).  ACAR provides services and resources to licensed real estate salespersons and brokers, appraisers, and affiliated service members.
While sometimes we're confused by the general public as being a "REALTOR® office," in which real estate agents sell properties, ACAR can be best described as the place where licensed real estate professionals join as REALTORS® or subscribe to the Multiple Listing Service.  We carry a wide range of signs and signage supplies for your business needs and offer the tools you need to become competent, ethical real estate practitioners in your individual real estate offices.
Committees & Directors
Officers, Directors and Committees
Website Accessibility
Amador Association of REALTORS® (ACAR) is committed to providing an accessible website. If you have difficulty accessing content, have difficulty viewing a file on the website, or notice any accessibility problems, please contact ACAR to specify the nature of the accessibility issue and any assistive technology you use. ACAR will strive to provide the content you need in the format you require. ACAR welcomes your suggestions and comments about improving ongoing efforts to increase the accessibility of this website.
Office Address
577 S. State Highway 49
Jackson, CA 95642
Phone: (209) 223-3874
Office Hours
Monday through Friday
8:30 AM – 4:30 PM