Code of Ethics Training – Mandated by NAR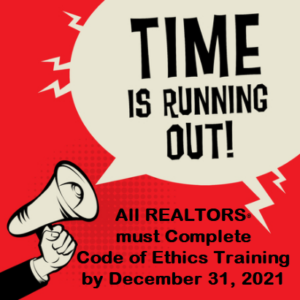 Existing REALTOR® members must complete 2.5 hours of ethics training, meeting specific learning objectives and criteria, within three-year cycles.
REALTORS® who have completed the required ethics training within a three-year cycle in one association shall not be required to complete any further ethics training for that same training cycle if the REALTOR® becomes or is a member of another association.
All REALTORS® must complete the Code of Ethics training through NAR by December 31, 2021. Failure to complete training during any cycle will lead to suspension of membership for the January and February immediately following the cycle deadline, with termination of membership starting March 1 after the cycle deadline.
Do I need to take the Ethics Course?